By Jim Koscs on Jan 6th, 2021 at 9:00 am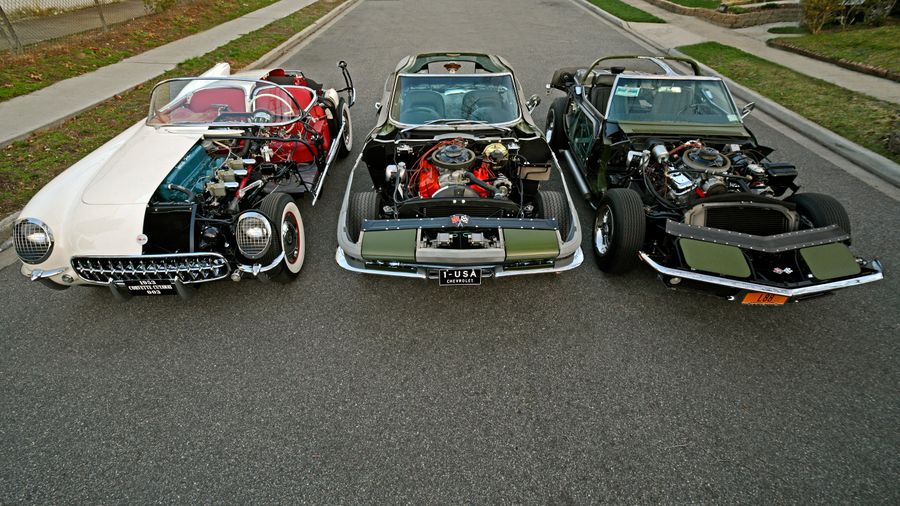 The unmistakable sound of a Chevy big-block through Corvette exhausts would not stand out as unusual at a New York Chevy dealer's Corvette show. But when a few showgoers turned their heads to glance at the "car" they heard approaching the event back in 1990, eyes popped and jaws dropped."It's not a car! It's just a chassis – with a guy driving it!"The "car," which was wearing the chrome bumpers of a C2 Corvette, made several passes by the dealership, and before long the show crowd had moved to the street to get a closer look. After about 10 minutes of teasing the 'Vette fans, the driver pulled into the lot and then into the showroom. The crowd rushed to follow.The driver, Kevin Mackay, had trailered the bodyless 1965 Corvette to a spot about a block away from the show and then drove it there to make a grand entrance. "They could not believe it was driveable," Mackay recalls for Hemmings. "People went crazy over it."The driveable '65 chassis was part fun surprise for Corvette buffs and part promotional tool for Mackay's business, Corvette Repair in Valley Stream, New York, opened in 1985. The shop has restored many of the world's rarest and most valuable Corvette production models, historic race cars, and factory development cars and prototypes. Mackay's restorations have earned more than 1,500 awards for clients, including legendary New York Yankee slugger, Major League Baseball Hall of Famer, and noted car collector Reggie "Mr. October" Jackson. The baseball great referred to Mackay as "The Mr. October of Corvettes" in the foreword he wrote for Mackay's book, "The Corvette Hunter."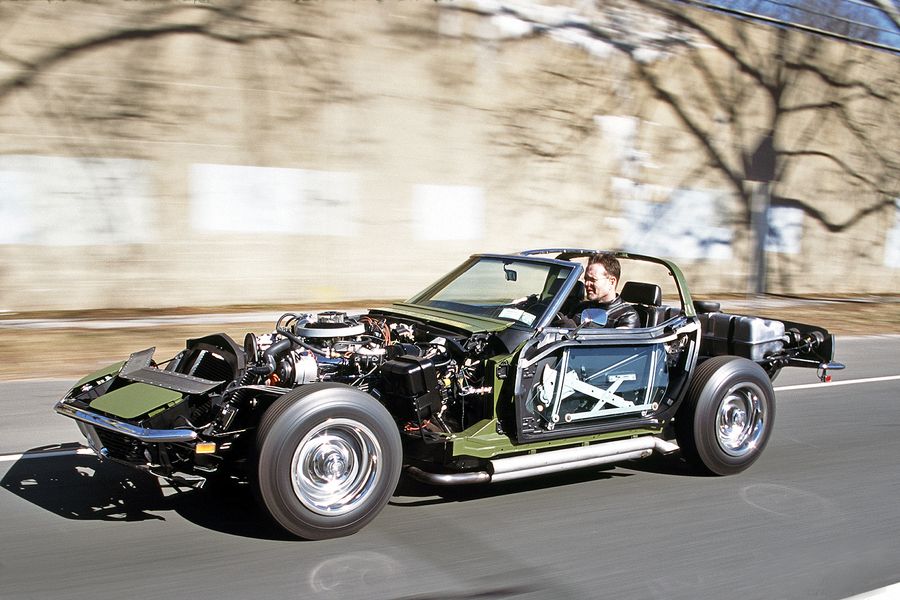 Photo copyright Bill Erdman.Mackay and his team of craftsmen would go on to build numerous other special display Corvettes, each more surprising and intricate than the last. The culmination of that work so far stands as three "See-Thru" Corvettes, representing each of the car's first three generations. Beneath the mind-blowing bodywork, each See-Thru car holds a special, historic surprise: The '69 is one of 116 factory L88 models made that year, the'65 is powered by a top-secret big-block engine from the Mk. IV development program and was used in one of the five Corvette Grand Sport racers. And the '53 sits on the oldest Corvette chassis known to exist, #003.Rest assured, Mackay and his team did not simply tear up three historic Corvettes to build these See-Thru models. Each was constructed differently, and all required extraordinary creativity, ingenuity and craftsmanship to be made driveable. (Mackay's '69 L88 will be returned to stock with its original body.)The featured photos, taken in 2018, are from the first and last time the three cars have been together. They were joined in the photo shoot by the driveable chassis of the 1964 Corvette XP-819 rear-engine development car, also restored by Corvette Repair. Mackay had debuted the chassis at the 2013 Amelia Island Concours, and then the completed XP-819 at the 2020 Amelia Island Concours. The car is currently on loan by its owner to the National Corvette Museum for the mid-engine model display.
"You Have to Stand Out"
Mackay had established a reputation for quality Corvette restorations starting with his own '65 and '67 coupes, but he wanted to do even more to demonstrate his team's capabilities while also engaging the Corvette hobby. He recalled advice from his father, who initially did not approve of his career but became a supporter. "He told me I had to figure out a way to make myself stand out," Mackay recalls. That spurred the idea to showcase restoration work that normally goes unseen.
Photo copyright Bill Erdman."Eighty-percent of a restoration gets hidden by the body, so we would bring the restored rolling chassis to local shows," Mackay says. "These would draw bigger crowds than the cars. People would surround them, take pictures and ask questions. They could see the inner workings of a Corvette and how it was built, which was a great way to learn, and they could also see the quality of our work."Energized by the reception the first rolling chassis received, Mackay stretched the idea. "Looking at the rolling chassis, I thought it wouldn't take much work to make it driveable," he says. "We could install the bumpers, pedals, brake master cylinder and a driver's seat. So we did that with the Bounty Hunter car we were restoring."The Bounty Hunter was a '67 427/435 coupe steeped in local New York notoriety. It was also one of just a handful of Tuxedo Black Corvettes that had a red interior. The car was originally used as a demo and drag-raced by Vernon Turner, a salesman at Krieger Chevrolet-Oldsmobile in Woodbridge, New York. Turner named the car Bounty Hunter after Top Fuel dragster racer Connie Kalitta and his cars. Turner, who was reputedly connected to organized crime, was ultimately found murdered.Mackay's restoration earned the car National Corvette Restorers Society Top Flight and Bloomington Gold honors, among other awards. It was judged Top Flight status with its Bounty Hunter lettering and Cragar GT mag wheels, which is how the dealer sold the car in 1967. (Mackay was able to hunt down a set of the correct wheels in Hemmings.)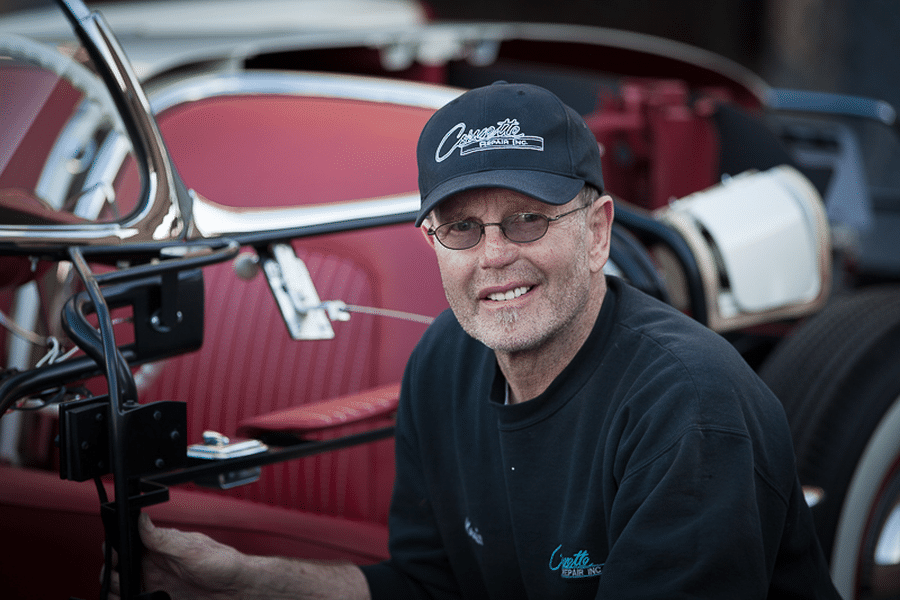 Kevin Mackay in front of one of his creations. Photo via the <a href="https://www.facebook.com/corvetterepair/">Corvette Repair Facebook pag</a>e.Among the car's enthusiastic fans at Bloomington Gold was the Corvette's godfather, Zora Arkus-Duntov, who happily autographed one of the car's valve covers. "That car got a ton of media coverage when we finished the restoration," says Mackay. "There were a lot of articles written about it."
Cutaways, Sideways, and Suspended in Air
A couple of years later, Mackay's team debuted the driveable chassis of the 1968 Sunray DX #3 L88 Corvette endurance racer, which later also appeared at Corvettes at Carlisle with a cutaway body before being completed. Also in 1992, Mackay showed the "Suspended Corvette," a 1967 427/435 roadster with its full body supported three feet above the chassis on specially-made stilts.In 1999, Mackay took a 1966 SCCA A-Production racer driven by R.D. (Bob) Johnson to Carlisle as a restored driveable chassis. His shop also displayed two Corvettes as "Sideways" cars, with their full chassis, including powertrain, held horizontally in a specially made stand. The first was one of the dozen 1971 LS6 Corvettes built with the ZR2 competition performance option. The second was a one-owner, black-on-black 1969 L88. Both cars were completed after their "Sideways" show appearances, and both earned NCRS Top Flight and Bloomington Gold certification.
The See-Thru L88
Then Mackay took it up a notch. In 2005, he and his team created their first "See-Thru Corvette," a driveable chassis with key pieces of the bodywork and full interior installed. It was Mackay's '69 L88, which was the only four-speed Tuxedo Black L88 built with factory side pipes. "I started with my personal car, because I wanted to try it and see how it worked out," he says. While restoring the car, Mackay traced its history back to its original delivery, realizing it was from the same dealer where he had once worked as a tech: Bay Chevrolet in New York.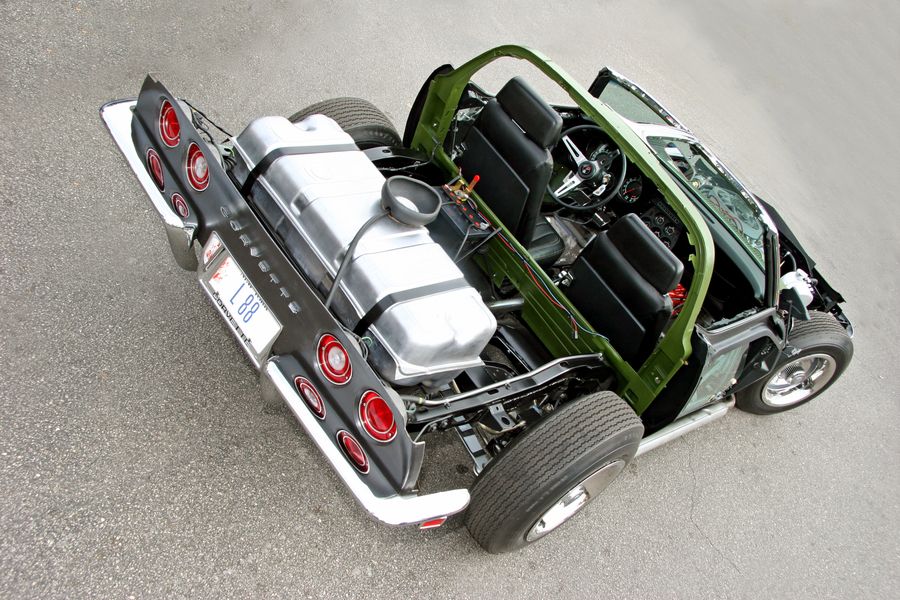 Photo copyright Bill Erdman.Atop the restored chassis, complete with its rebuilt L88 engine, Mackay's team installed the basics that define a 1969 Corvette. With its replacement birdcage, windshield, bumpers, headlights, taillights, and doors, there's no mistaking it for anything but a C3 Corvette. The doors operate normally, and transparent plastic floor panels complete the see-through design. The lights work, and so does the horn, and the car even passed a New York State motor vehicle inspection. Everything in the full interior functions.But make no mistake: Installing these elements without the full body in place was like a science project. Mackay's team fabricated removable brackets to hold the pieces in their correct locations."People went crazy over it," says Mackay about the car's debut at a regional NCRS meet in Kissimmee, Florida. They were happy to learn, too, that this genuine L88 could and would eventually be put back to stock condition with all its restored and NOS parts. "Everything is just bolted on," he says. "I will eventually remove the replacement birdcage from the car and install the original, repainted body."
Counting Backward to C2
The opportunity to build a See-Thru C2 Corvette presented itself in an unusual way. For his client, Corvette collector Ed Foss, Mackay had helped arrange a deal to buy a very special and fully authenticated and documented engine once used in Duntov's fabled Grand Sport lightweight Corvette racer program.Dallas Chevy dealer Delmo Johnson, with a team including Ed Sevadjian and Dave Morgan, entered the 1965 Sebring 12 Hours endurance race with Grand Sport #3, previously owned by racer John Mecom. For this race, Duntov surreptitiously shipped a special Chevrolet Engineering development heavy-duty Mk. IV big-block to the St. Louis Corvette assembly plant for installation in a 1965 Corvette allocated to Johnson's dealership. He had even stenciled "Johnson Chevrolet" on the painted valve covers.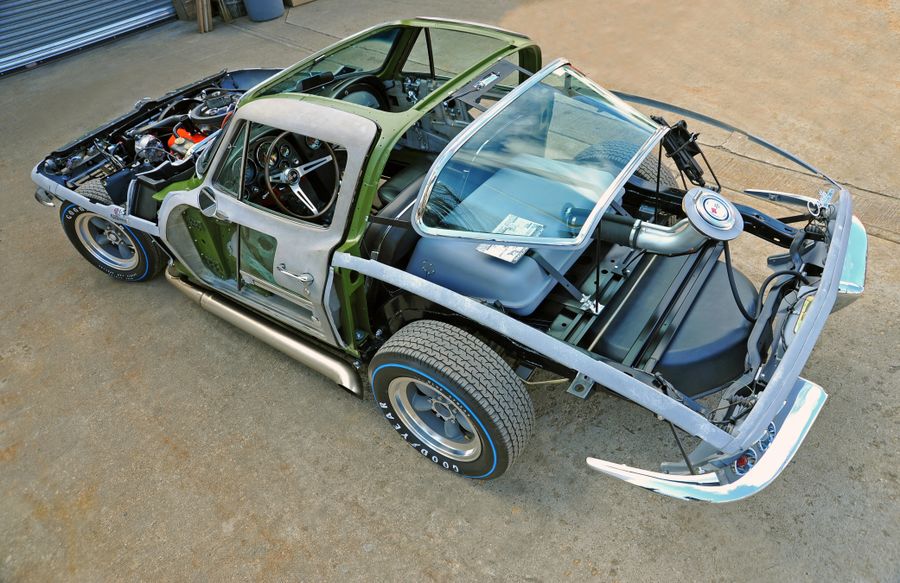 Photo copyright Bill Erdman.Duntov then instructed Johnson to remove the engine from the Corvette upon delivery and install it in the Grand Sport, without doing a thing to it. The iron engine was a precursor to the production L88 that arrived for 1967. At Sebring, this Grand Sport could hit 180+ mph, but handling woes held the team to a 36th-place finish.Mackay, who is an NCRS Master Judge and a Bloomington Gold Benchmark Judge, suggested to Foss that they build something special to showcase the engine. Foss was onboard with the idea of building a See-Thru Corvette. The conversion of a '65 coupe body proved more challenging than the C3, with a "floating" rear window for the earlier car particularly tricky to execute. "That was killer," recalls Mackay. "Without the body, there's nothing to hold the window. We took a lot of measurements from a coupe body to get that precise location. We used steel rods and brackets, painted satin black, to support it. And we bent and shaped brake tubing to support the floating emblems."Mackay's team also installed the N03 36-gallon gas tank and made cutaway doors. This car displayed more of its body lines than Mackay's See-Thru C3, escalating the build's difficulty. "We debuted that one at Corvettes at Carlisle, and they went nuts," he says.
Back to the Beginning
Then came the third sequel, or, historically speaking, the prequel. When Mackay spotted a historic Corvette chassis for sale online in 2012, he urged Foss to buy it. The chassis, authenticated by the NCRS decades before, is from the third 1953 Corvette built and is the oldest Corvette chassis known to exist. Collector Phil Havens had discovered the chassis under the body of a 1955 Corvette he was restoring back in the 1970s. The tip off came from frame holes and brackets that didn't quite match up to the '55 body and were even different than those on later-production '53 'Vettes.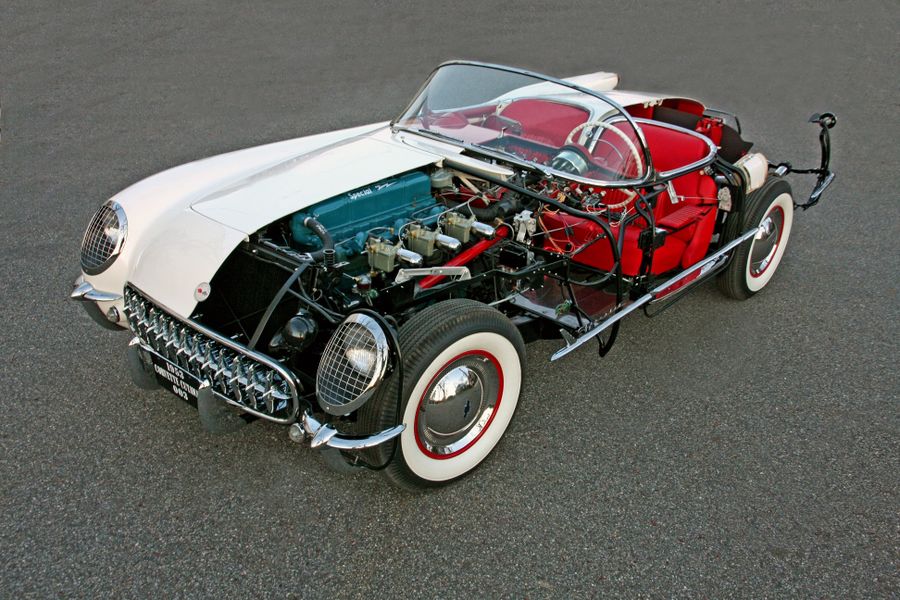 Photo copyright Bill Erdman.How this chassis ended up paired with the '55 body remains a mystery, but Mackay's research unearthed a Chevrolet Engineering Department work order dated Aug. 20, 1953, to change out the frame on Corvette #003 after the car had been subjected to punishing durability testing. The replacement chassis remains paired to the original #003 body, and that car remains in another collector's hands.Havens had restored chassis #003 and displayed it that way for many years. Foss liked the way his See-Thru C2 turned out so much that he asked Mackay to build something even more ambitious, a car split down the middle to expose all its mechanicals through the driver's side. This would prove to be the team's most challenging See-Thru Corvette yet. "We put in over 5,000 man-hours over two years to build that car," explains Mackay. "There were no plans, and no drawings existing to do this. It had never been done."The project required a special combination of mechanical aptitude and artistry, along with plenty of fortitude and patience. Mackay emphasizes that the process took "a tremendous amount" of documenting, researching, designing, engineering, measuring, parts hunting, cutting, bending and splicing.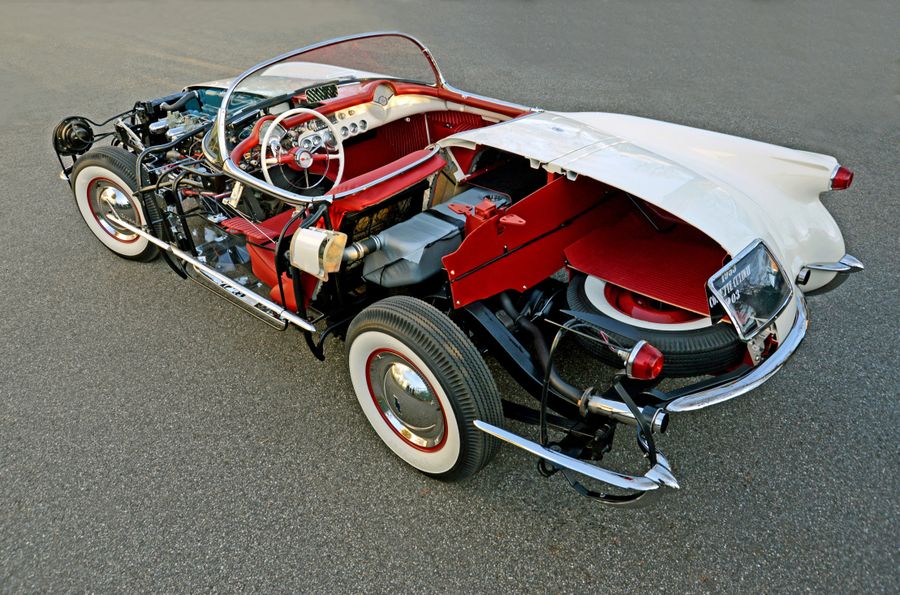 Photo copyright Bill Erdman.For a body, Mackay used a 1954 Corvette parts car and split it down the center, which by itself was a difficult and delicate operation. His team left the windshield and grille intact, and then made "floating" elements including the left-side headlight, taillight, fender emblem, body side molding, horn, armrest, and even the ashtray. Plexiglas panels in the floor give a see-through look from below, and the transmission, driveshaft and exhaust system are left exposed for full view from the side.Most impressively, the car is driveable, but only for show fields, not the street. "Everything in the car works," Mackay says.At the same time, this unique '53 Corvette is a full, correct restoration. The car correctly shares details with the other first five or six '53 models, including Chevy Bel Air hubcaps. Mackay found a new set online, still in the original box. Also, this Corvette has no side mirror, because none of the other very early '53s had one.The See-Thru '53 made quite an impact at its Amelia Island debut in 2017. "Nobody believed that we built that car," recalls Mackay. "They thought it was a special GM display car that had been hidden away and forgotten."https://www.youtube.com/embed/wy41xVpok9kFoss ultimately donated the See-Thru C1 to the National Corvette Museum, which placed it in a specially designed permanent display. Museum visitors can use a touchscreen to view more than 500 photos of the step-by-step build by Mackay's team.
My Generations
"You don't even have to be a Corvette enthusiast to appreciate the See-Thru cars," Mackay says. "They're educational, and they create excitement in the hobby. They really make an impact in peoples' minds."Chevrolet, meanwhile, seems to have taken some inspiration from Mackay's See-Thru Corvettes, as it has shown a cutaway of the new mid-engine C8 at media events. That car, however, is not driveable. Mackay says he doesn't plan to tackle such a project, because he focuses on C1, C2, and C3 Corvettes."I'm passionate about those generations, because those are the cars I grew up with."Read more details about Mackay's See-Thru Corvettes and other one-of-a-kind Corvettes restored and built by Corvette Repair in his book, "The Corvette Hunter." http://corvetterepair.com/shop