We had a tech session at A&B Upholstery December 19, 2020. MJ (Owner) hosted the event for us as well as Alan Blay who talked about the history of car #100. Below you will see a video of MJ installing a new soft top on the 53. I would like to thank both MJ, Alan Blay and the members who attended the session.
As introduced in 1953, the Corvette was mostly a thrown together experiment. Production was limited to 300 units total, so sales of the entirely new model was not a problem.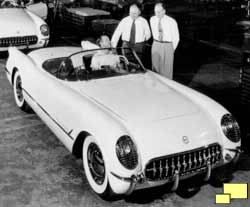 The first Corvette reaches the end of the assembly line on June 30, 1953. The entire 1953 production took place in the back of a customer delivery garage in Flint Michigan. The first two were engineering test cars and according to official records, were destroyed. Of the first 300 Corvettes, approximately 225 are known to exist today.